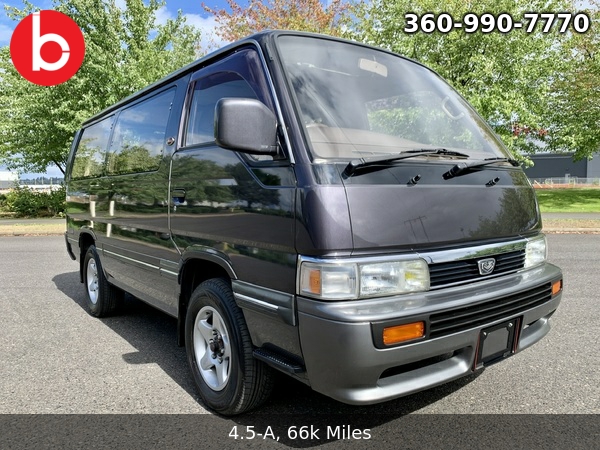 1995 Nissan Caravan Homy GT Cruise 4WD 2.7L Turbo Diesel, Auto
Mileage: 66,841
Engine: TD27 Turbo Diesel
Transmission: Automatic
Interior color: Brown
Exterior color: Grey
Fuel type: Diesel
VIN: ARME24-**2297
Doors: 4 Door
Stock number: 302-5
Many vans sold in the US directly target the luxury market with all the tech and creature comforts they offer nowadays. It's important to remember that Japan was building upscale people haulers back in the early '90s, and this Nissan Homy Cruise is a perfect example of one. Finished in a classic Charcoal/Gray two-tone (2K1), the slab-sided body panels are in good shape other than a few minor chips and dings. Offered with only 66K verified miles, this 1995 has a sumptuous camel-colored interior with seating for eight, a durable turbodiesel, all paired up with a capable 4WD system, it presents an affordable option for want to turn the key and motor in something that is more distinctive and unique than a typical van.
The interior receives high marks compared to most of our vans that we retail. It's apparent that the old owners had really taken care of the interior and didn't leave it to the rug rats to trash. They managed to keep the OEM plush carpet mats in wonderful shape and retained the climate control remote. Starting with the seats, which are upholstered in a plush tan cloth not to mention all the seats have stayed protected over the years because of the seat covers. The seat covers are currently removed but will be included with the van. The front two chairs are comfortable bolstered and soft to the touch and offer armrest and plenty of adjustments for longer cruises. A massive center console, with a matching cloth armrest, provides plenty of additional storage. The driving position lends itself to decent visibility, as the cab-over design features plenty of glass to see out of due to its decent ride height. This corollary benefit to this design is a short wheelbase, which makes maneuverability much better in city driving. The dash is in great shape and a digital climate system can handle the extremes between summer and winter weather.
A manual front sunroof provides some extra natural light in the cabin and can assist with some additional ventilation. The rear two rows are more impressive than the front and have some killer features. A massive panoramic sunroof slides and full retracts to give an almost convertible-like experience. You can retract a shade and use it as a moon roof to scan the heavens, or you can send it back all the way for an open-air experience. The seats fold flat to create a sleeping solution and can also be swiveled 180 degrees to face the rear row. A dedicated rear climate can be found, and there is plenty of space for everyone and their cargo. Privacy tint keeps interior temperatures down in summer and the harmful rays of the sun from aging the plastics. It also keeps print eyes away and can be found on the back hatch as well. The door cards and headliner have managed to last remarkably well, as have the cognac colored carpet. We should note that the linen curtains are fully operational via the buttons on the armrest but the rear window one sticks at times and has to be manually adjusted.
Desired for its 4WD and diesel engine, this Nissan can get you where you need to go in inclement weather while delivering reasonable fuel economy. The 2663cc TD27 is mounted centrally below the two front seats. This lends itself to a better weight distribution which affects handling and traction. Benefitting from a fresh oil service, all you have to do is turn the key and she fires right up. The automatic transmission can send power to the rear wheels only if desired, as a selective transfer case is standard on this 4WD trim level. Acceleration isn't as fast as our sports cars but is linear and adequate to get to freeway speeds without having to worry about the merge. The suspension is happy to soak up bumps large and small, and the power-assisted steering is light and easy to articulate. The brakes do a nice job of slowing the Homy down, as the van isn't as heavy as a modern van. For your winter weather a complete back up set of winter wheels and tires are included that has tons of life left.
** Few scuffs on side moldings
** Crack on badge on trunk
** Pictures included of all defeats

** Spare Set of Winter Wheels & Tires Included
UNDERSTANDING OF GRADING SYSTEM

Exterior


4.5 The car is a very high grade that you can be confident in. The car may have some very slight imperfections in the body, but will not need major repair. Grade 4.5 and 4.0 are the top grades you could expect for a used car, and as such attract the top prices in the top 10%.


Interior
A - New or near new condition.