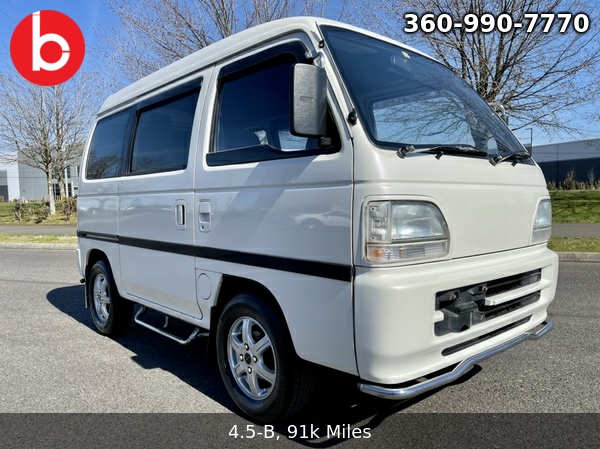 1995 Honda Acty Street G RealTime 4WD, Mid-Engine, AC, PS, 5MT
Mileage: 91,182
Engine: E07A 660cc 3 Cylinder
Transmission: Manual
Interior color: Black/Grey
Exterior color: Glacier Frost Mica
Fuel type: Gasoline
VIN: HH4-**05312
Doors: 5 Door
Stock number: 306-3
This 1995 Honda Acty is an overachiever. Scaled down to size, this tiny van seats four, is a blast to drive, all while delivering fantastic fuel economy. It is the ideal small, urban, runabout. Its surprisingly capable cargo volume, phenomenal gas mileage, and quirky good looks make it a blast to drive and own. The usefulness of this little van is seemingly endless. A city hauler, marketing vehicle, or simply just a fun commuter all rolled into one package! One thing is for sure, this pint size van delivers an oversize smile to your face whenever you take it for a spin. At only 127" long and 55" wide this compact cargo carrier can squeeze just about anywhere. Finished in Brilliant White this hauler is in good shape, showing only normal signs of wear and tear with the exception of a dent in the rear hatch. this city van passes muster and can immediately be put to work.
The Acty was primarily designed for functionality and the Street version was the more family oriented model while the G designation includes fancy upgrades like painted bumpers and A/C. However, the interior still remains extremely versatile. Loading and unloading is exceptionally easy. The full rear hatch opens completely parallel with the roof making loading up cargo a breeze. With two full size sliding doors passengers can easily scoot in and out. The seat material is in average shape, sans some loose fabric on the driver's side door card. Those door cards are otherwise fine, and are color matched and in good condition. The carpeting and headliner do have some scuffs and stains which could not be removed, but compared to the average twenty five year old work van, we have seen plenty worse. Up front, the driver and passenger experience great visibility thanks to the cab over axle design. The tilt wheel gives some adjustability to the controls, and gives the driver more leg room if required. Behind the front passengers the Acty has lots to offer. The rear seats have plenty of leg room, and are equipped with a center armrest for comfort. For those times when you don't need the back seats, they can be folded completely flat giving you 6' of usable space. In the Acty, with the ventilated rear windows, this is less of a big deal. The driver can also utilize the aftermarket radio, which is still functioning. Unlike most traditional vans the sliding doors actually do have roll down windows to aid rear passenger air circulation. Of note, in the rear, an interior floor panel by the rear axle allows for easy access to service the engine.
Part of what makes the Kei trucks so practical is the fact that the E07A 656cc 3 cylinder is mounted below the rear cargo deck. The mighty, twelve valve, 3 cylinder has the ability to pull 45mpg and still get you down the highway. The noise its makes is particularly cool, and is climbs above 7K rpm without any hesitation. A fresh oil service ensures you can drive this little van for the next 3000 miles without a service. By the way, Honda dealerships do stock this motor's oil and filter if you want to bring it by for routine maintenance. With 91K miles, this little Honda engine has plenty of life left in it. The steering is light, unassisted, and very precise. This Acty fires right up and idles smoothly. The clutch engages cleanly and shifts smoothly through all 5 forward speeds of the manual transmission. Reverse works well, and a rear wiper ensures the Honda can safely find a rearward parking location. The brakes are very quick to react to inputs, and the feather light hauler stops abruptly. With such a small turn radius, the unassisted yet light steering is wonderful in the city. The factory suspension is well sorted and handles bumps without feeling unstable despite its short wheelbase.
The little Acty punches above its weight, delivering useful storage and unique styling. This demure little workhorse is ready to go, and eager to find a new garage.

* New Air filter
* Brake Flush
* New Spark Plugs
* Fresh Oil Change
* New Wiper Blades
* New Front Calipers
* New Front Brake Pads
* New Valve Cover Gasket
* New 13" Tires with Alloy Wheels
* Shifter Linkage has been lubbed
* 30% Tint on Passanger Windows
* 5% On Rear Window
* Speedo Cable needs to be fixed/ replaced
* Rear Drum brakes should be serviced soon
* Exhaust system has a leak


UNDERSTANDING OF GRADING SYSTEM

Exterior Detail

4.5 The car is a very high grade that you can be confident in. The car may have some very slight imperfections in the body work, but will not need major repair. Grade 4.5 and 4.0 are the top grades you could expect for a used car, and as such attract the top prices in the top 10%.



Interior Detail

B - Very clean interior.