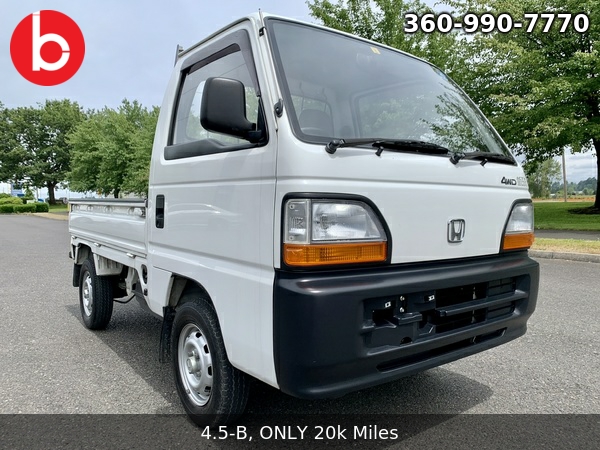 1994 Honda Acty RealTime 4WD, Mid-Engine, 5MT, Clean
Mileage: 20,083
Engine: E07A 660cc 3 Cylinder
Transmission: Manual
Interior color: Black/Grey
Exterior color: White
Fuel type: Gasoline
VIN: HA4-**13849
Doors: 2 Door
Stock number: 291-2
Dealer Options for Your Mini Truck. Just ask and we can add these features
v All Terrain Tires 23 x 8 x 12
v Aluminum Wheels 8 x 12
v 2" Lift Kit or Progressive Springs
v Toyo Open Country Mud & Snow Tires
v Yokohama Super Digger Mud & Snow Tires
v Heavy Duty Front Bumper with Receiver
v Heavy Duty Rear Bumper with Receiver
v Hydraulic Control Snowplow with full power up/down
Common Features:
§ Emergency Flashers
§ Japanese Band Radio
§ Rain Guards; Open your window slightly and not get wet
§ 3 cylinder
§ Adjustable Windows
§ Bed Tray Sides Fold Down
§ Brake and Back Up Lights
§ Center Mounted Rear View Mirror
§ Dome and or Cargo Light
§ Doors are Solid Locking Doors
§ DOT Safety Glass all Windows
§ Dual Folding Side Mirrors
§ Dual Headlights
§ Dual Intermittent Wipers with Wash Spigots
§ Glove Box
§ Hand Lever Parking brake
§ High-beam Headlights
§ Horn
§ Mac Pherson Struts-Front
§ Rear Leaf Springs
§ Rear Wheel Drive
§ Reminder Tones; Key in ignition/Headlamps on
§ ROPS/Standard Safety Belts.
§ Side Door Impact Bars
§ Speedometer/Odometer
§ Stainless Steel Exhaust
§ Temperature control
§ Trip computer
§ Turn Signals
§ Two Front Bucket Seats
§ Variably intermittent wipers
UNDERSTANDING OF GRADING SYSTEM
Exterior

5.0 - The exterior may have some very minor scratches/scrapes and dents. A very difficult grade to obtain, the unit will be in near perfect condition with very minor imperfections.


4.5 The car is a very high grade that you can be confident in. The car may have some very slight imperfections in the body work, but will not need major repair. Grade 4.5 and 4.0 are the top grades you could expect for a used car, and as such attract the top prices in the top 10%.

4.0 - The exterior may have some scratches/scrapes and dents. The car is in above average condition. No Crash history.

3.5 - The exterior has some noticeable large scratches/scrapes and/or large dents. They may require some minor panel beating work and/or painting. The car is in average condition taking in to consideration the year and Miles on the car.

3.0 - The exterior has many noticeable large scratches/scrapes, paint blemishes, and/or large dents. They will require panel beating work and/or painting.

2.0 - The car is in poor condition.




Interior

A - New or near new condition.

B - Very clean interior.

C - The car has some, or all of the following conditions;
1) Tears, cigarette burn marks, worn patches, dashboard warping, and/or has some small tears.
2) The interior is dirty and needs to be cleaned.

D - The car has some, or all of the following conditions;
1) Several cigarette burn marks in the interior.
2) Dashboard has a major warp.
3) The interior is dirty and needs to be cleaned. Some dirty patches will remain after cleaning. Needs work