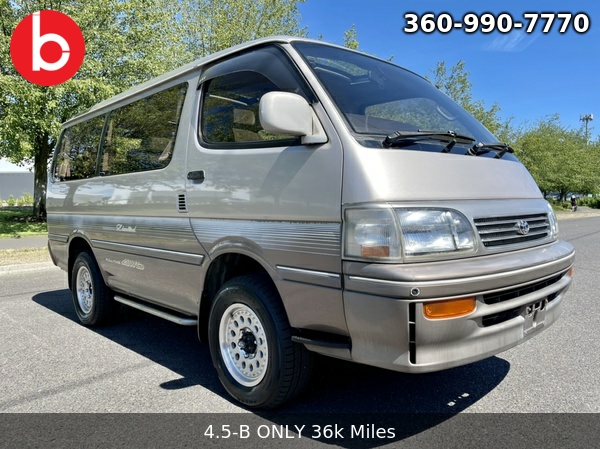 1993 Toyota Hiace Super Custom Limited 3.0 4WD EFI Turbo Diesel Auto
Mileage: 36,804
Engine: 1KZ 3.0L Turbo Diesel
Transmission: Automatic
Interior color: Brown
Exterior color: Brown/Beige
Fuel type: Diesel
VIN: KZH106-**09305
Doors: 4 Door
Stock number: 306-1
Before the SUV craze that erupted during the late '90s, vans were predominately hauler of families and all of the cargo that goes with them. Utilizing sculpted aerodynamics, a cab forward design, and extensively optioned interior made this 1993 HiAce one of the most comfortable and luxurious vehicles in its segment. Sporting a period-correct two-tone, the paint is in good shape and is lustrous, the body panels have no major dents or dings. The spec sheet certainly seems to have every box possible checked, and some highlights include four sunroofs, adjustable suspension, and a bevy of interior seating configurations, uncommon to even in today's domestic mini-vans.
Inside a number of interesting options can be found, which include a digital dash, reclaimable lounge seating, and full bevy of power amenities. Seating is available for up to seven with swiveling center row seats. Overall the interior is in excellent shape, and the door cards, carpet, seats, and headliner are devoid of any large blemishes. The interior is incredible, and the seats feel like a Chesterfield sofa. The material is soft and has an almost velour-like feel. The bolstering is supportive yet cushy, which further insulates passengers from the environment outside. The driver's side is even powered, however the tilt column is non-functional. If you wish to enjoy some privacy, the cabin is surrounded by linen curtains that are now manually adjusted. Behind the front row, occupants enjoy their own separate A/C zones and climate settings. The Japanese were the first to realize that passengers shouldn't be any less comfortable than the driver, and this van demonstrates that. The rear vented sunroofs are also functional, which is a rarity, and the center panoramic assembly opens and retracts, giving rear occupants a view of the stars above. An aftermarket head unit has been installed in Japan, but it doesn't display any English characters, so we encourage its replacement to a more mainstream model.
The 3.0L 1KZ engine (Diesel) has recently received maintenance and is ready for its next adventure. The diesel engine starts up happily and settles into a constant idle. With only 36K verified miles the Super Custom is hardly even broken in. Located between the front seats, this improves balance and creates a more desirable handling characteristic. The reliable, 3.0L mill is inexpensive to maintain and comfortable driving at highway speeds, and parts are readily available. The engine starts right away, idles correctly, and does not hesitate under acceleration. The automatic transmission shifts smoothly, without issue. The shorter wheelbase is great for uneven terrain if you need a bit of ground clearance, and also lends itself to a tight turning radius. The steering is feather-light and the suspension wafts over poor road surfaces.
This HiAce is highly desirable for many more reasons than incredibly low mileage. Its durable, useful, and futuristic approach to design makes this Toyota a perfect Japanese Classic, turn-key ready for any adventure. Recent maintenance done at (36,800 Miles) include a Fresh Oil Change, New Battery & Alternator, New Timing Belt, New Front and Rear Main seal, New Fuel & Air filters, New Front Brakes & Rotors. Coolant & Brake Fluids were also flushed. New Oil Level Sensor, New Valve Cover Gasket was also installed. R134 AC Recharged. Things to Note : Although AC is charged and blows cold the compressor does not sound happy so we recommend rebuild or replacement of that unit. Power Curtains don't function, Vehicle has a aftermarket CD changer installed that we never tested for functionality, Current Tires have lots of life left but are Winter Tires.
UNDERSTANDING OF GRADING SYSTEM
Exterior Detail


4.5 The car is a very high grade that you can be confident in. The car may have some very slight imperfections in the body work, but will not need major repair. Grade 4.5 and 4.0 are the top grades you could expect for a used car, and as such attract the top prices in the top 10%.



Interior Detail


B - Very clean interior.