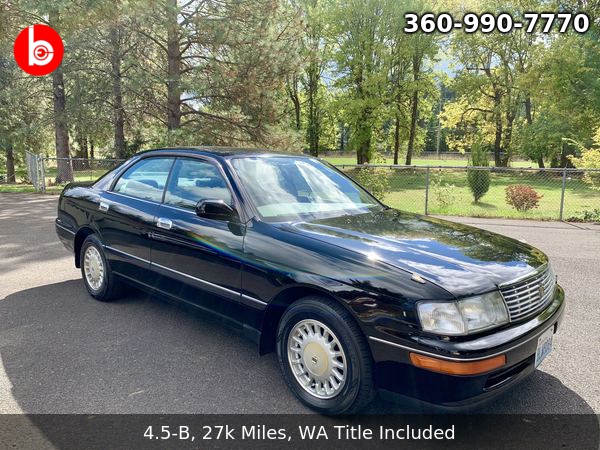 1993 Toyota Crown Royal Touring RWD, Auto, 1JZ-GE
Mileage: 27,137
Engine: 2.5L 1JZ-GE I6
Transmission: Automatic
Interior color: Grey
Exterior color: Black
Fuel type: Gasoline
VIN: JZS141-**55795
Doors: 4 Door
Stock number: 163-5
1991 Toyota Crown Royal Saloon

The JZS141 chassis Toyota Crown is arguably one of the most recognizable and popular vehicles in Japan. Having a wide range of uses from executives to taxi's this generation Crown is not only comfortable to drive, it's also very reliable. This 1991 example is the Royal Saloon model equipped for executive. The exterior of this Crown is in beautiful condition with very few imperfections for a car this age. The Black paint (color code: 202) is in fantastic shape and has been well cared for. The body is very straight and free of any significant damage. This Crown is completely unmodified and offers a unique platform for a daily driver or to modify as an iconic VIP style Japanese sedan.
The interior is in superb condition with very minimal wear. The grey executive cloth is free of any rips or stains and is very comfortable. The dash is clean with no cracks or bubbles, and the door panels follow suit with no damage and just minor wear. The carpet is also free or and rips or major stains.
Mechanically this Crown is in excellent condition with just 27k original miles. The reliable 1JZ-GE engine fires right up and idles properly. Since this engine was offered in the US getting parts is absolutely no issue at all. Shifts through the automatic transmission are smooth and is at home both on the highway and in city traffic. Drive this unique and comfortable Toyota Crown home today!