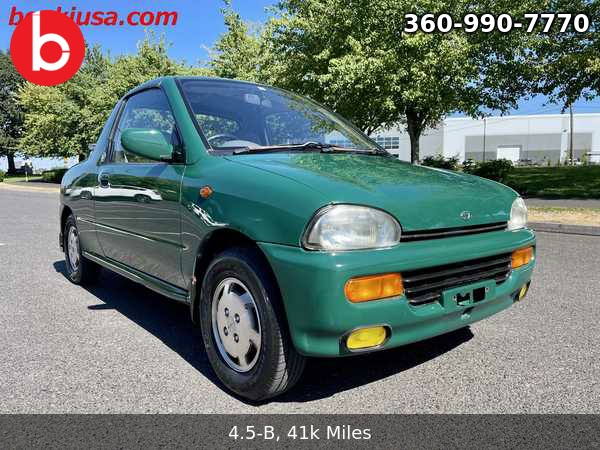 1993 Subaru Vivio T-Top Convertible FWD, Automatic
Mileage: 41,624
Engine: EN07
Transmission: Automatic
Interior color: Multi
Exterior color: Green
Fuel type: Gasoline
VIN: KY3-**2660
Doors: 2 Door
Stock number: 341-6
While Subaru's name was big on the World motorsports arena in the World Rally Championship, at its home market, it was a great producer of kei-car vehicles.
Subaru's marketing department was smart when it introduced the name VIVIO, which came from the Italian verb "to live." Also, in the Roman numbering system, VI means six. So, the name could also be spelled as 660, which was the engine's displacement, limited by the regulations for the Japanese kei-car segment.

There was a new design trend on the market, with more curved panels and flowing lines. While that was easier to draw on a longer vehicle, it was almost impossible to do on a 3.3 m (10.8 feet) one. Subaru designers tried and shaved the corners, installed headlights with rounded edges. In the front bumper, the designers carved a smiley-shaped lower grille and installed a pair of big, related to the car's size, turn-signals, which captured almost half the image of the front fascia.

Inside, the car was so narrow that it could hardly offer enough shoulder room for two passengers. But, for a daily commuter inside the city was more than enough. Despite all that, the carmaker managed to install a regular dashboard with a center stack and four air-vents, but the instrument cluster was smaller and allowed only a speedometer and two gauges. There was a split-folding bench good for two adult-sized passengers in the rear, or rather children on their way to school with the backpacks in the trunk.