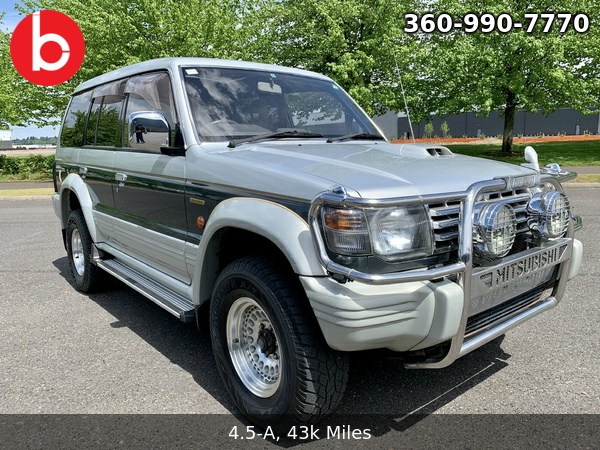 1993 Mitsubishi Pajero Turbo Diesel 2.8L 4WD, Intercooled, Auto
Mileage: 43,059
Engine: 2.8 L 4M40
Transmission: Automatic
Interior color: Black / Grey
Exterior color: Silver / Green
Fuel type: Diesel
VIN: V46-**01867
Doors: 5 Door
Stock number: 203-5
The Mitsubishi Pajero is one hell of a truck and a savvy jdm purchase if there has ever been one. Its sibling, the Montero, was sold here stateside but lacked the best motor Mitsubishi was offering at the time. With the 25 year mark finally eclipsing, this 4wd, automatic transmission, turbodiesel equipped pajero is offered with only 43k verified miles. Finished in a classic green/silver two-tone the body is in good condition. Upgraded alloys, oem rain guards, chrome bumpers, and running boards complete the rugged look matching this vehicle off-road prowess.
The cabin of this rig surprises many with how many creature comforts it has. Power windows, locks, and mirrors are all standard, but rear-seat climate and adjustable suspension were quite rare at the time. Utilizing the side steps to hoist oneself into the driver's seat, once aboard, the command of the road is impressive. The ride height and loads of slab-sided glass promote visibility and aid safety. The low slung dash is neither cracked nor distorted and interior looks like it's been somewhat protected from the sun. The seats, made out of soft gray leather, are in great shape in all three rows.
A separate climate system can be used for those outback, but the front systems are simple and easy to use. In a pinch, two jump seats can be unfurled from the d pillars and bring the seating capacity up to seven. For us Americans, we think it's a given, but the Pajero has cup holders for rear and front passengers, which is a rarity. The heat and a/c work properly and can handle warm and colder weather without putting up a fight. To distract you from the diesel clatter, an adjustable column, power windows, power locks, and mirrors all make the ownership experience much better than your typical older trucks. The headliner and door cards are in great condition, and the carpets have been protected over the years.
Complete maintenance has been performed on this Pajero. Oil change, air filter, fuel filter and drivetrain fluids were just done along with new belts and alternator was rebuild. New Bluetooth Stereo was installed as well.
One of the most important upgrades that this Pajero received in the early '90s was this 4m40 diesel engine. Its larger displacement can definitely be felt over its predecessor, and this midsized suv has no issues getting up to speed on the interstate. Delivering impressive fuel economy, and known for its durability, it definitely gives competitors like Toyota a run for their money. Up to date on maintenance, and receiving a fresh oil and filter service, this mitsu needn't be serviced for another five thousand kilometers. The engine turns over with a twist of the key and sets into a constant idle. The four-wheel-drive system can be adjusted to rwd on the fly and can switch between modes at speeds up to 62mph. the oem adjustable suspension includes a sport and touring setting, so ride comfort can be adjusted according to preference.
With generous approach angles and tons of travel, the Pajero is plenty capable off-road but demonstrates civil driving characteristics when on the pavement. The brakes feel assured and the steering is light, making this truck hassle-free when parking in the mall or daily driving to work and back. Five brand new all-season tires have been installed, ensuring safe all-weather grip for thousands of miles to come.
Priced several thousand below the Toyota Hilux, yet with more features, the Pajero is good value. With a reliable diesel, auto Trans, and room for the whole crew, it hits the mark.
UNDERSTANDING OF GRADING SYSTEM
Exterior

5.0 - The exterior may have some very minor scratches/scrapes and dents. A very difficult grade to obtain, the unit will be in near perfect condition with very minor imperfections.


4.5 The car is a very high grade that you can be confident in. The car may have some very slight imperfections in the body work, but will not need major repair. Grade 4.5 and 4.0 are the top grades you could expect for a used car, and as such attract the top prices in the top 10%.

4.0 - The exterior may have some scratches/scrapes and dents. The car is in above average condition. No Crash history.

3.5 - The exterior has some noticeable large scratches/scrapes and/or large dents. They may require some minor panel beating work and/or painting. The car is in average condition taking in to consideration the year and Miles on the car.

3.0 - The exterior has many noticeable large scratches/scrapes, paint blemishes, and/or large dents. They will require panel beating work and/or painting.

2.0 - The car is in poor condition.




Interior

A - New or near new condition.

B - Very clean interior.

C - The car has some, or all of the following conditions;
1) Tears, cigarette burn marks, worn patches, dashboard warping, and/or has some small tears.
2) The interior is dirty and needs to be cleaned.
D - The car has some, or all of the following conditions;
1) Several cigarette burn marks in the interior.
2) Dashboard has a major warp.
3) The interior is dirty and needs to be cleaned. Some dirty patches will remain after cleaning. Needs work.