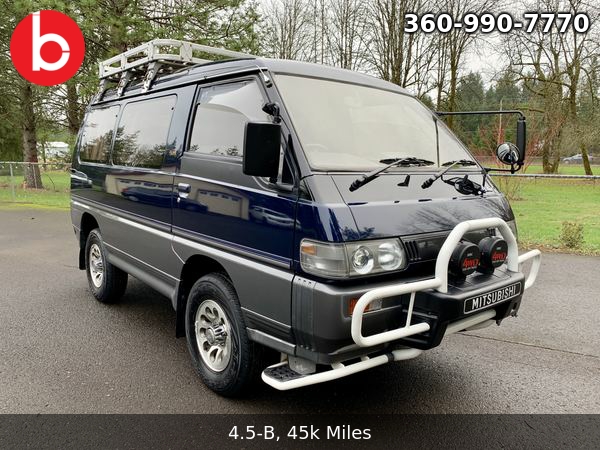 1993 Mitsubishi Delica Star Wagon Exceed Turbo 4WD, Diesel, Auto
Mileage: 45,877
Engine: 4D56 2.5L Turbo Diesel with 2Hi-4Hi-4Lo & 4 Speed Auto
Transmission: Automatic
Interior color: Black/Grey
Exterior color: 2-Tone Blue/Grey
Fuel type: Diesel
VIN: P35W-**07717
Doors: 4 Door
Stock number: 176-5
The Mitsubishi Delica was designed as a tough 4×4 multipurpose vehicle, with slightly different models suited to different purposes.
These come with lots of room for passengers and cargo with very versatile adjustable seating.
The name Delica was created by contracting parts of the words Delivery and Car together, which is why this Right Hand Drive Delica is great option as a postal delivery vehicle.
The Delica comes equipped with an 2.5 L Turbo Diesel Engine.
The large mirrors make backing into tight spaces and changing lanes a breeze!
Lots of great features inside and out that are perfect for the outdoors explorer or for larger postal routes.
Also Features AC with separate front and rear climate controls and of course a selectable 4×4 drive train for tough routes.
Interior Features
8 Passenger Seating
Air conditioning
OEM Cassette Player
Central locking
Cloth seats
Power Windows
Exterior Features
Alloy Wheels

Fog lights

Roof rack
Spare Tire
Tinted windows
Window vent visor
2.5-Liter Turbodiesel Inline-Four
4-Speed Automatic Transmission
2-Speed T-Case
Super Exceed Model w/Crystal Lite Roof
Folding Rear Seats
Privacy Curtains,
Exterior Condition Rating Chart
5.0 - Brand NEW
4.5 - Excellent
4.0 - Very Good
3.5 - Good
3.0 - Fair
Interior Condition Rating Chart
A - Brand NEW
B - Very Good
C - Fair