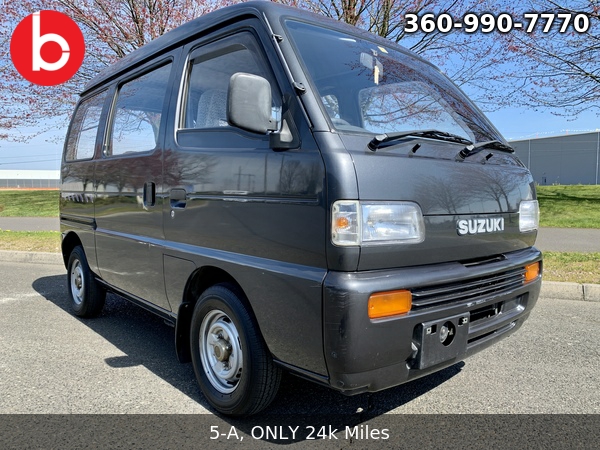 1992 Suzuki Every Cargo Van 2WD, 5MT AC, Extremely Clean
Mileage: 24,554
Engine: F6A 660cc 3 Cylinder
Transmission: Manual
Interior color: Tan/Grey
Exterior color: Black
Fuel type: Gasoline
VIN: DE51V-**7183
Doors: 4 Door
Stock number: 254-6
This 1992 Suzuki Every is one of the more eye-popping and useful city runabouts that we've brought stateside. Packing an efficient 3 cylinder gasoline motor, a manual transmission, and reasonably well equipped, it's really hard to pass up this pint-size hauler. This 1992 is finished in Suzuki's Charcoal Gray (38B) which is a deep and lustrous hue. The paint is in great condition overall and shines nicely, free of any severe blemishes to note. The bodywork has been well preserved, however, like anything that's been driven it does have some small dents and dings from routine driving.
Although this van has a micro footprint the cargo space rivals modern SUVs and is easily accessed via the sliding doors and large rear hatch. With a middle row that folds fully flat, you have over 6' of fully usable space. The interior has a much more updated look when compared to other Kei vans from the era. The driver has a wonderful command of the road, as the cab-over design provides tons of glass to see out of. Surprisingly roomy upfront, there are manually adjustable buckets that provide plenty of comfort and support for longer drivers. The cloth seats are in above average condition and are soft to the touch while still being durable. They were protected with the dealer's optional white linen covers, and that's likely why they have lasted a quarter century without major stains or discoloration. The door panels and dash are also in nice shape, free of any sun damage or warping which plagues most of these. The roof is shockingly high on these, and the headliner is nearly immaculate. Heat pipes through the vents well and an a/c system that, while not an industrial freezer, will cool the cabin during the summer months. The OEM radio functions and plays through a built in speaker. All controls are within reach as the Every does have some decent ergonomics for a Kei van. OEM rain guards are a nice little addition and allow for some convenient ventilation options when A/C isn't desired. Visibility is premium as the A pillars are small, the side mirrors are large, and there is an abundance of glass around the cabin. The flat load floor helps with the foot room and loading up cargo, and the rear carpet is still intact without any major flaws. The rear tailgate, which features an electronic gate lock function can raise to six feet, providing a large loading area for cargo.
This Every is powered by a 657cc inline-three (F6A) which delivers power to the rear wheels. With its lightweight chassis, 3 cylinders, 5 speed, design, the van is sensationally economic around town. Shifts through the 5-speed manual transmission are smooth, and power along nicely with the torquey little 3 cylinders. The suspension provides tons of ground clearance and can handle sorting out small and medium bumps without too much body flex. The Every benefits from a longer wheelbase than other Kei's, which improves stability and ride quality. Its brakes feel strong, and bring this bantamweight hauler down to a stop without any concern. It's capable of cruising at highway speeds but is most ideal around town where up to 45 miles per gallon can be achieved. This mini hauler is a blast to own, and turns heads everywhere it goes!
UNDERSTANDING OF GRADING SYSTEM
Exterior Detail

5.0 - The exterior may have some very minor scratches/scrapes and dents. A very difficult grade to obtain, the unit will be in near perfect condition with very minor imperfections.

4.5 The car is a very high grade that you can be confident in. The car may have some very slight imperfections in the body work, but will not need major repair. Grade 4.5 and 4.0 are the top grades you could expect for a used car, and as such attract the top prices in the top 10%.

4.0 - The exterior may have some scratches/scrapes and dents. The car is in above average condition. No Crash history.

3.5 - The exterior has some noticeable large scratches/scrapes and/or large dents. They may require some minor panel beating work and/or painting. The car is in average condition taking in to consideration the year and Miles on the car.

3.0 - The exterior has many noticeable large scratches/scrapes, paint blemishes, and/or large dents. They will require panel beating work and/or painting.

2.0 - The car is in poor condition.


Interior Detail

A - New or near new condition.

B - Very clean interior.

C - The car has some, or all of the following conditions:
1) Tears, cigarette burn marks, worn patches, dashboard warping, and/or has some small tears.
2) The interior is dirty and needs to be cleaned.

D - The car has some, or all of the following conditions:
1) Several cigarette burn marks in the interior.
2) Dashboard has a major warp.
3) The interior is dirty and needs to be cleaned. Some dirty patches will remain after cleaning. Needs work.
Known defects
** AC system needs to be recharged to function
** Vent air directional cable needs to be replaced.
** New spark plugs & air filter installed