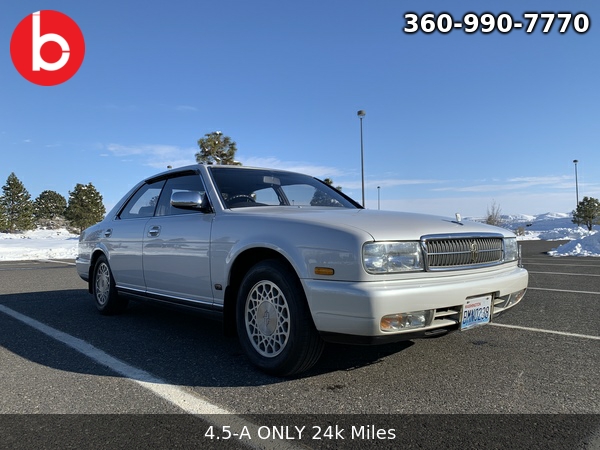 1992 Nissan Cedric Brougham VIP Turbo RWD, 3 Liter VG30DET
Mileage: 24,989
Engine: VG30DET 3L V6 Turbo
Transmission: Automatic
Interior color: Black/Grey
Exterior color: Pearl White
Fuel type: Gasoline
VIN: PAY32-**2531
Doors: 4 Door
Stock number: 182-6
This 1992 Nissan Cedric Brougham VIP is a Rare Car. This example is extremely clean with only 24k original miles. The Pearl White paint is overall in excellent condition with no blemishes; as is the body which has no dents and very few dings. OEM rear parking sensors are present and function very well. An OEM front parking pole is also present to further assist when parking. The exterior maintains an all original appearance with no modification down to the OEM alloy wheels.
Inside you'll find every luxury available in 1992 including OEM touch screen navigation! Other features include not only power front seats, but power rear seats as well (reclining). The interior is in excellent condition considering the vehicles age. Cruise control, ABS, valet passenger seat controls for the driver, driver side air bag, steering wheel controls for both the climate and radio are all features you will find on the inside of this very rare car. The dash has no cracks or bubbles. All seats and door panels are free of major rips / tears and show minimal wear. No changes have been made inside and it remains all original With the exception of the head unit. All original floor mats are present and in excellent condition with the exception of the passenger front where there's a stain.
The VG30DET starts right away and idles correctly. The Specific VG is rumored to have a stronger block and internals than the Z32 VG30DETT, so it can easily handle future upgrades if so desired. The transmission is functioning correctly and shifts smoothly. The Y32 chassis is a popular platform in Japan (and now becoming so in the U.S.), so both aftermarket and stock replacement parts are readily available. Mechanically this Cedric is 100% stock. Whether you're looking for a luxurious daily driver or a starting point for a VIP – this Y32 is the perfect fit.
One thing to note would be the suspension airbags in the rear lose pressure and will need to be rebuilt or replaced otherwise the ride is extremely bouncy for the time being. It is possible that there's simply a leak in the system and the bags are fine but we are not sure. A Brand New Battery was installed recently as well. Car will come with a Clean Washington Title.


Exterior Condition Rating Chart

5.0 - Brand NEW
4.5 - Excellent
4.0 - Very Good
3.5 - Good
3.0 - Fair

Interior Condition Rating Chart

A - Brand NEW
B - Very Good
C - Fair