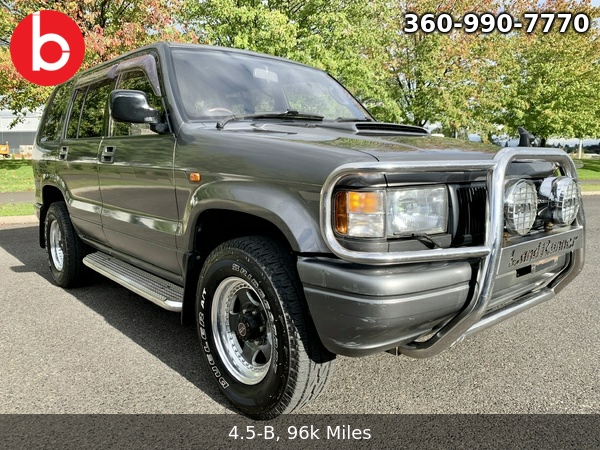 1992 Isuzu BigHorn Turbo Diesel Intercooled 4WD, 2Hi-4Hi-4Lo, Auto
Mileage: 96,275
Engine: 4JG2 3.1L Turbo Diesel
Transmission: Automatic
Interior color: Black/Grey
Exterior color: Grey
Fuel type: Diesel
VIN: UBS69GW-**07040
Doors: 5 Door
Stock number: 212-5
Isuzu Bighorn Long Wheel Base Irmscher Edition 3.1L Automatic Turbo Diesel Intercooled. Manufactured 1992 and sold in Japan
Also known as the Isuzu Trooper Except his is the second generation model and the 3.1L Turbo diesel option only became available after 1992 & only in japan. It was offered as a more rugged and fuel-efficient option for towing and heavy-duty operation, relative to the standard 3.2-liter gasoline engine found stateside in the trooper. This diesel-powered Isuzu Bighorn came equipped with Auto transmission, push button four-wheel drive system with electronic front hubs with a open front diff and limited slip rear differential.
This four cylinder turbo diesel is factory rated for 123hp, providing ample power for highway speeds, towing and off-roading. A rugged off road beast with a 3.1l 4JG2 turbo diesel which is absolutely bullet proof and mated to a 4 speed auto transmission. This SUV is a real work horse, designed for heavy duty tasks but can also be used as a daily driver or road trip vehicle. A very economical option for daily use with ample power from the turbo diesel engine and a perfect rig for USPS Mail Delivery if needed.
With the exception of a Small tear in the driver seat this Isuzu is in excellent condition. The engine is strong and healthy and starts without hesitation. The Auto transmission shifts comfortably through all 4 gears. All the electrics are functioning as they should and the A/C blows cold and heater works flawlessly
If you're in the market for a reliable work horse that has years of service ahead of it, or an economical daily driver this Isuzu would make the perfect option. With the style and reliability you would expect from a Japanese import and something unique to own that nobody else has this off road beast has it all. It's hard to argue that this low mileage turbo diesel offers excellent value for money.
Manufactured by Isuzu in Japan
5-door wagon body type
4x4 part-time (rear permanent, front engaged manually in off-road conditions), automatic 4-speed Gearbox
Diesel Fuel Injected Engine with Displacement: 3059cc Horsepower 123 hp Torque: 203 lb-ft,

Outside Length:183.5 in, Width: 68.7 in, Wheelbase: 108.7 in

Base Curb weight: 4475 lbs

Top speed: 146 km/h (91 mph)

0- 60 mph 17.7© s; 0- 100 km/h 19© s

Aftermarket front BrushGaurd with PIAA Foglights

Aftermarket Wheels with New Bridgestone Dueler A/T Tires

Limited Edtion Irmscher Trim with RECARO Interior

Heated Power Adjustable & Folding SIde Mirrors

Fuel consumption and mileage: average estimated 24.8 mpg (U.S.)

96275 Miles (154939km)

MPH Cluster from Domestic Isuzu Trooper has been installed

Driver Lower Seat Cushion has damage and picture is included.

Passanger side power side mirror doesnt operate,

Fresh Oil change and Wiper Blades replaced 10/19/2020